Magnetic Head Rollers are important magnetic products that are used as head pulleys in belt conveyors for removing ferrous contaminants from material flow.
Magnetic rollers cover with stainless steel (SS304 or SS316) full strong magnets design which up to 15000GS, permanent magnetic roller Ferrite System and Rare Earth System Available, easy install, long service life.
Magnetic Separation Pulleys replace existing head pulleys in belt conveyors.
They are used for continuously separating ferrous contaminants from the product flow at the point of discharge.
The radial magnetic field ensures the tramp metal is held and separated from the product as it flows off the end of the conveyor.
Can be used stand-alone or in conjunction with a matching Magnetic Take-off Rail.
Available in a range of sizes to fit your diameter and belt width.
The shaft can be machined to your specification.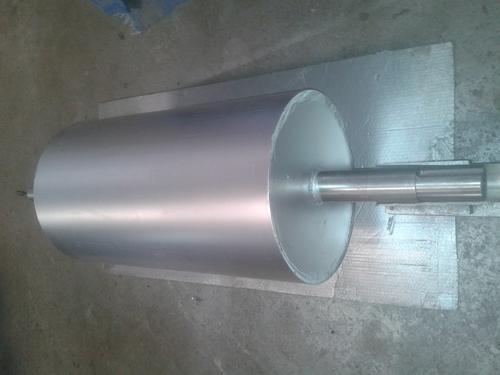 Working Principle of the magnetic roller
Material contaminated with ferrous metals be carried over transported by permanent magnetic roller and subjected to a magnetic field while ferrous contaminants are attracted to the concentrated and strong magnetic field generated by the roller, the roller unaffected pass the Non-ferrous fractions, the attracted ferrous metals are carried by the rotating roller in the magnetic field and drop off by their own under the drum away from the magnetic field. Obtained by an additional installation of the splitter for dividing the stream of purified material from attracted ferrous metals is the best separation efficiency way. Customized Magnetic Drum Pulley
Installed at the discharge end of flat or troughed belt conveyors, Permanent Magnetic Head Rollers are designed to remove tramp iron that cannot be removed by either a Plate or Overband magnet because of the conveyed product depth.
For the best possible protection against tramp, metals use Permanent Magnetic Head Rollers in conjunction with Plate or Overband magnets.
Permanent Magnetic Head Rollers are available in two magnetic materials: standard strength, which uses ceramic magnetic material; and high strength, which uses high-intensity rare earth magnetic material. The latter is the most popular due to its high contamination removal efficiency.
The permanent magnetic roller consists of stainless steel structure and Neodymium magnet, hygienic and easy for cleaning as well as improve service life; what's more separator for waste recycling offer strong magnetic performance, both end with bearing help user easy install them on the machine. All these humanized designs make permanent magnetic roller become the most popular item.
http://gooston.com/wp-content/uploads/2022/08/coupling.png
0
0
Seed
http://gooston.com/wp-content/uploads/2022/08/coupling.png
Seed
2021-10-02 15:30:11
2021-10-02 15:46:55
Permanent Magnetic Head Rollers China Supplier Wholesaler